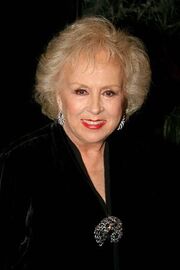 Doris May Roberts (November 4, 1925 – April 17, 2016) played Danny Tanner's mother Claire Tanner in the episode "Granny Tanny". In that episode, Michelle gets her first "big-girl bed". Danny tells everyone to act like they need her around the house because she had just retired.
She was best known for her role as Marie Barone on Everybody Loves Raymond. She died on April 17, 2016 at the age of 90.
Ad blocker interference detected!
Wikia is a free-to-use site that makes money from advertising. We have a modified experience for viewers using ad blockers

Wikia is not accessible if you've made further modifications. Remove the custom ad blocker rule(s) and the page will load as expected.