Happy New Year
Comments

0
301pages on
this wiki
Happy New Year
Season 4, Episode 13

Air Date
December 28, 1990
Writer
Jeff Franklin
Director
Joel Zwick
Previous
Danny in Charge
Next
Working Girl
Happy New Year is episode thirteen of season four of Full House. It originally aired on December 28, 1990.
Summary
Surprisingly, the only person in the Tanner household without a date on New Year's Eve is Joey. Thus, Danny and Jesse send a tape of Joey to a dating service, and the result is a thrilling night on the town with the gorgeous Christine. After they usher in the New Year, will Joey and Christine feel the same way about each other in the cold light of day?
Before midnight, Rusty keeps bugging (or "torturing") Stephanie that at midnight, he will kiss her.
Later, when the clock strikes midnight, Stephanie quickly takes a bite out of an onion so that Rusty would not kiss her because of bad breath. Jesse and Becky share a kiss, as do Danny and Cindy along with Michelle and Comet, Joey and Christine, and finally D.J. and Ricky. Danny quickly separates D.J. and Ricky, and orders them to simply shake hands and say goodnight.
Stephanie then tells Rusty that she is ready for her kiss, excited that she will seek revenge on Rusty, but Rusty confesses that he was just messing with her. Stephanie then blows her stinky breath in Rusty's direction, and then kisses him! Rusty runs to his mom screaming.
Elsewhere, D.J and Kimmy throw a New Year's Eve party at Kimmy's house, planning to invite a small group of friends. However, they end up inviting 400 guests.
Quotes
Rebecca: Well, you can't miss the big party down at the station.
Joey: Why? Is, uh, Danny gonna be Baby New Year again?
Danny: Not after that wicked diaper rash I got last year.
---
Joey: Hey, Deej, what happened with your party?
D.J.: Well, Kimmy's dad freaked out and sent everyone home.
Ricky: Yeah, just because a few extra guests showed up.
Joey: How many extra guests?
D.J.: The police estimated four hundred. (Ricky shrugs in agreement)
---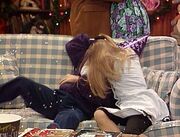 Stephanie (with onion breath): Ready for my kiss…
Rusty: Are you crazy!? You really think I would kiss you!? I just love torturing you.
Stephanie: Well in that case… (blows her onion breath in Rusty's direction) Hhhhappy New Year! (Stephanie kisses Rusty)
Rusty: Mommy!
Scene from the episode