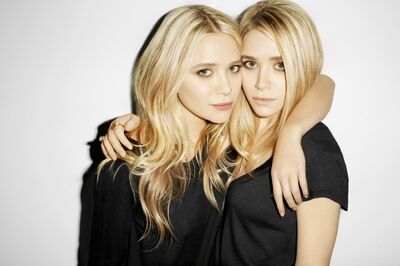 Mary-Kate & Ashley Olsen (Born June 13, 1986 in Sherman Oaks, California) are American twin actresses who played Michelle Tanner on Full House. They have both been acting together since they were a year old. Their mom took them out of acting, but soon brought them back because of their popularity.
Acting
In 1987 the twins began their career on the TV at only nine months old on the sitcom Full House as Michelle Tanner. In 1992, they starred in To Grandmother's House We Go, a Christmas story about runaway kids trying to find their way to grandma's. In the 1993 Halloween movie Double Double Toil and Trouble, twins try to stop a witch and save their aunt Sophie.
In 1998, three years after Full House's cancellation, they starred opposite each other in the one-season-long ABC sitcom Two of a Kind, from the producers of Full House, with their characters' first names the same as their real-life first names.
In 2001, they starred opposite each other again in the sitcom So Little Time, which aired on ABC Family (2001) and Fox Family (2001–02) channels. In 2015, Nickelodeon picked up rights to the sitcom and aired the reruns alongside Full House.
Gallery