Nerd for a Day
Comments

0
301pages on
this wiki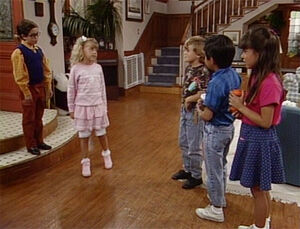 Nerd for a Day is episode four of season three on Full House. It originally aired on October 13, 1989.
Plot Summary
Succumbing to peer pressure, Stephanie joins her classmates in making fun of a nerdy kid named Walter Berman, better known as "Duckface." Outraged by this behavior, Jesse forces her to apologize to him—with unexpected results.
Elsewhere, Joey briefly subs for Becky on Danny's morning TV show, and D.J. embarks upon a most unusual school project about Michelle.
Quotes
Danny: Joey, let's go! We're gonna be late!
Joey: Danny, what is the big rush?
Danny: Joey, you know I always leave the house at exactly 7:48. Now, thanks to you, I'm already two minutes late.
Joey: What are you talking about? We are right on time.
Danny: Joey. That's a barometer.
Joey: Well, in that case, we'd better get moving. There's a hurricane brewing.
---
 *Stephanie: He's not my boyfriend...but he is my friend.
Walter: Really? I'm your secret friend?
Stephanie: No, Walter. You're my "everybody can know" friend.

Added by

Grizabella45
Trivia
Becky does not appear in this episode, as she is on assignment
This is the first of the very few appearances by Brian Kagan and Walter F. Berman, but is the sole appearance of Stephanie's friend Laurie, and final appearance of Harry Takayama
Danny says, "Oh, Dorothy was right. There is no place like home!" Danny is referring to one of Dorothy Gale's most famous lines in the popular, classic The Wizard of Oz.