Prom Night is episode twenty-two in season six of Full House. It originally aired on May 4, 1993.
Plot summary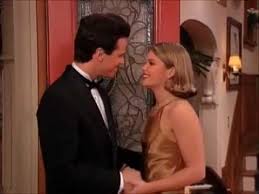 It's time for 
Steve
's senior prom, and of course, high school sophomore D.J. is his date. Jesse and the Rippers will be the band that's performing at the prom, and Becky will be one of the chaperones. While shopping for a dress, D.J. gets upset when she and Steve run into his former girlfriend Rachel Taylor, who is wearing the same dress as D.J., but Steve clearly does not seem interested in Rachel.
At the prom, things become complicated when it's announced that the prom king is Steve, and the prom queen is Rachel. D.J. can't help but wonder if the voting for prom king and queen was a conspiracy by their schoolmates to get Steve and Rachel back together, because they were popular as a couple at the school.
D.J. is afraid she's going to lose Steve to Rachel, who wants him back, especially when DJ sees Rachel kiss a very surprised Steve. Steve assures a hurt D.J. that he felt nothing during that kiss, and that he doesn't want Rachel back because he's perfectly happy with D.J.
Meanwhile, Vicky admits to Danny that she's almost 8 months older than Danny is, instead of being a year younger, as she had led him to believe. Danny feels uncomfortable about it, until Vicky tells Danny that the fact that she's older than he is shouldn't make him feel inferior.
Trivia
Only appearances of Tom and Paul, as well as Gorilla Bernstein
Only appearance of Rachel Taylor, Steve's ex-girlfriend
We learn that Vicky is only seven months older than Danny, but no stronger
The music in the background at their prom is the instrumental of "I Will Always Love You" by Whitney Houston
Quotes
Steve: I thought she was my first love, but I was wrong! I didn't even know what love was until I met you.
DJ: Really?
Steve: Really, I love you.
DJ: I love you too.