Prom Night is episode twenty-two in season six of Full House. It originally aired on May 4, 1993.
Plot summary
As
D.J.
prepares to escort
Steve Hale
to his senior prom, she gets upset when, while shopping for a dress, she and Steve run into his ex-girlfriend Rachel Taylor who is wearing the same dress as D.J. D.J.'s concerns pave the way for chaos when Steve and Rachel are voted prom king and queen at the dance.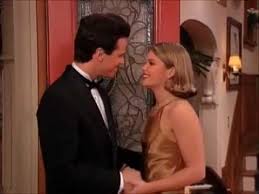 Meanwhile, Danny is upset when he learns that Vicky Larson is actually a year older than he is, and not a year younger, which she had lead him to believe.
Trivia
Only appearances of Tom and Paul, as well as Gorilla Bernstein
Only appearance of Rachel Taylor, Steve's ex-girlfriend
We learn that Vicky is only seven months older than Danny, but no stronger
The music in the background at their prom is the instrumental of "I Will Always Love You" by Whitney Houston
Quotes
Steve: I thought she was my first love, but I was wrong! I didn't even know what love was until I met you.
DJ: Really?
Steve: Really, I love you.
DJ: I love you too.