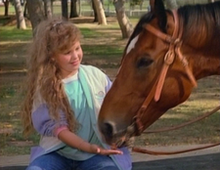 Rocket is an animal character on Full House. D.J. meets the young bay horse in the season two episode "D.J.'s Very First Horse".
History
After learning that he is for sale because his owner moved to Chicago, Illinois, D.J. and Kimmy plan to buy Rocket without their parents' permission. However, Kimmy's mother says no to Rocket. When the girls can't come up with the money after Kimmy spends her money on clothes, D.J.'s informed that Rocket will need a new owner to pay for boarding fees.
Rocket follows D.J. home when she goes to get him a carrot. Stephanie discovers Rocket and D.J. swears her to secrecy. Danny comes home and sees Rocket in the living room of the house. Danny tells D.J. that she's grounded and she can't have Rocket. Danny tells D.J. to take Rocket home. After telling Rocket goodbye and understanding that he'll always be in her heart, D.J. finds out that Rebecca Katsopolis has bought Rocket. Because she'll be busy with work, Becky asks D.J. to help her take care of Rocket (and even ride him once in a while). D.J. agrees, but then explains that she'll have to wait until her grounding is over. D.J. asks Danny if she can help Becky take care of Rocket once her punishment is over, and Danny agrees.
Trivia
The image of D.J. riding Rocket in the closing credits of seasons four and five, and in the opening credits for seasons three, four, and five (depending on which version of the theme song is used), is taken from this episode.
Ad blocker interference detected!
Wikia is a free-to-use site that makes money from advertising. We have a modified experience for viewers using ad blockers

Wikia is not accessible if you've made further modifications. Remove the custom ad blocker rule(s) and the page will load as expected.