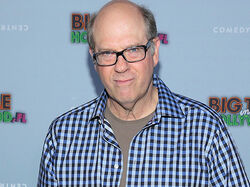 Stephen Harold Tobolowsky (born May 30, 1951) is the actor who plays Mr. Gerald in the Fuller House episode "The Not-So-Great Escape". He is known for playing annoying insurance salesman Ned Ryerson in Groundhog Day, as well as such television characters as Commissioner Hugo Jarry (Deadwood), Bob Bishop (Heroes), Sandy Ryerson (Glee - a nod to his Groundhog Day character) and Stu Beggs (Californication).
Career
Mr. Tobolowsky has enjoyed a prolific career in film and TV as a talented character actor, appearing in over 200 films and numerous TV projects. He has worked in the theater as well, directing and acting in plays in New York City, San Francisco and Los Angeles. He directed one movie, Two Idiots in Hollywood, based on his play of the same name. He also co-wrote the film True Stories with David Byrne and Beth Henley. He was nominated for a Tony Award for Best Performance by a Featured Actor in a Play for the 2002 revival of Morning's at Seven.
Internet presence
Tobolowsky has a monthly audio podcast, "The Tobolowsky Files," of autobiographical stories of his acting and personal life. He has also authored The Dangerous Animals Club and Cautionary Tales based on these original stories. Since March 2015 he has run a weekly second podcast called Big Problems - An Advice Podcast.
Ad blocker interference detected!
Wikia is a free-to-use site that makes money from advertising. We have a modified experience for viewers using ad blockers

Wikia is not accessible if you've made further modifications. Remove the custom ad blocker rule(s) and the page will load as expected.