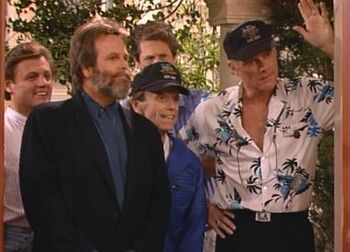 The Beach Boys is a group that formed in California in 1961. They soon signed to Capitol Records in 1962. They grew with popularity and fame as they made legendary albums, songs, and more. Many fans loved them. The members of The Beach Boys are Mike Love, Brian Wilson, David Marks, Bruce Johnston, and Al Jardine. The band appeared on the episode "Beach Boy Bingo" and at Jesse and Rebecca's wedding. Also, in "Captain Video (Part 1)", Mike Love and Bruce Johnston (of the group) appear, performing "Forever" with Jesse.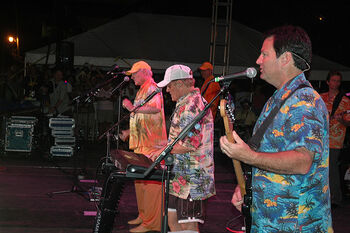 With Stamos
In real life, John Stamos, has occasionally played the drums and various percussion instruments in concert with The Beach Boys, dating back to 1985. In 1988, he appeared in their video for "Kokomo", playing both the congas and the steel drums. In 1990, he played drums for them on the title track of the movie Problem Child. In 1992, he sang lead vocals on a new version of "Forever" for their album Summer in Paradise.
Ad blocker interference detected!
Wikia is a free-to-use site that makes money from advertising. We have a modified experience for viewers using ad blockers

Wikia is not accessible if you've made further modifications. Remove the custom ad blocker rule(s) and the page will load as expected.